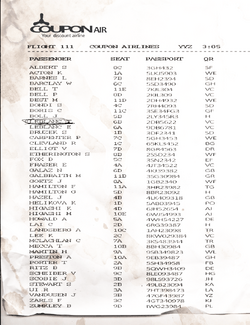 Passengers are the other occupants that were traveling on the plane along with the protagonist. After crashing in the forest, the player is able to see the corpses of a few of them around the crash site, primarily the corpse of the woman where the Plane Axe is located, possibly the hostess. Many passengers may also be found hanging from the top of the caves where many of the cannibals reside in, cannibal villages, out the front of caves etc. It is unknown at this point in time if any living passengers will be present in the future, as the player may encounter camps and signs of life scattered around the forest. It can be assumed that at least 4 passengers are tennis players because 8 dead passengers can be found in the large mutant camp and in a cave who are wearing tennis gear, and they are posed with rackets and tennis balls.
List of passengers
The findpassenger and goto numbers are Console Commands. To use these, in the main menu type in developermodeon, enter a game then press F1. You can then start typing commands.
The

icons are links to The Forest Map for the locations of each passenger.
#
Name
Seat
Find
Passenger
Coordinates

Image
01
ALBERT S
8C
findpassenger 1
goto 835 15 871

02
ACTON K
1A
findpassenger 2
goto -375 -83 885

03
BARNES L
7B
findpassenger 3
goto 844, 16, 854

04
BARCLAY W
6C
findpassenger 4
goto 1053, -90, 333

05
BELL T
11E
findpassenger 5
goto 177, -88, -849

06
BELL P
8D
findpassenger 6
goto 1053, -90, 333

07
BEST M
11D
findpassenger 7
goto 177, -88, -849

08
BONDI S
4C
findpassenger 8
goto -732, 133, 1185

09
BORIS C
11C
findpassenger 9
goto -694, 138, 1160

10
BOLL J
5B
findpassenger 10
goto 482, 62, -679

11
BRUZEK S
1B
findpassenger 11
goto 138, 82, 681

12
CARPENTER P
7C
findpassenger 12
goto -589, -31, 52

13
CLEVLAND R
1C
findpassenger 13
goto 138, 82, 681

14
ELLIOT V
7D
findpassenger 14
goto 1044, -97, 360

15
ETHERINGTON S
8B
findpassenger 15
goto -202, -87, -217

16
FOX D
5C
findpassenger 16
goto -21, 75 649

17
FRASER E
4A
findpassenger 17
goto 835 15 871

18
GALAZ N
6D
findpassenger 18
goto 1044, -97, 360

19
GALBRAITH M
11B
findpassenger 19
goto -677, 134, 1189

20
GOETZ J
8A
findpassenger 20
goto -375, -83, 885

21
HAMILTON F
11A
findpassenger 21
goto 177, -88, -849

22
HAMILTON G
5D
findpassenger 22
goto -714, 137, 1150

23
HAZEL J
4B
findpassenger 23
goto 482, 62, -679

24
HELIKOVA K
1D
findpassenger 24
goto 149, 82, 646

25
HIGASHI K
4D
findpassenger 25
goto -258, 67, 582

26
HIGASHI M
10D
findpassenger 26
goto -694, 138, 1160

27
HOWALD A
5A
findpassenger 27
goto -792, 33, -2

28
LAI C
2D
findpassenger 28
goto 699, -188, 245

29
LANDSBERG A
10C
findpassenger 29
goto -726, 135, 1139

30
LEE K
2C
findpassenger 30
goto 698, -187, 267

31
MCLACHLAN C
7A
findpassenger 31
goto 835, 15, 871

32
MECCA T
10B
findpassenger 32
goto -702, 138, 1124

33
MARTIN H
9A
findpassenger 33
goto -84, -116, -212

34
PRESTON A
10A
findpassenger 34
goto 113, -80, -954

35
PORTER T
2A
findpassenger 35
goto 175, 84, 628

36
RITZ B
9B
findpassenger 36
goto -688, 106, 1113

37
SCHEIBER V
9C
findpassenger 37
goto -688, 106, 1113

38
SCOBIE J
3D
findpassenger 38
goto -258, 67, 582

39
STEWART S
2B
findpassenger 39
goto -355, -15, 666

40
UI R
3A
findpassenger 40
goto -375, -83, 885

41
VANDUSEN J
3B
findpassenger 41
goto -375, -83, 885

42
ZARLS F
3C
findpassenger 42
goto 482, 62, -679

43
ZUMKLEY B
9D
findpassenger 43
goto -792, 33, -2

44
LEBLANC T
6B
This is the players son
Leblanc T
45
LEBLANC E
6A
This is the player
Leblanc E
Console Command Method
In the main menu type in developermodeon
Start a game, a new one in this example
Collect the Passenger Manifest from the back of the plane
Press F1 and type findpassenger 1
Press F1 again - This opens the console
UP ARROW - This duplicates the last command
DOWN ARROW - This goes to the end of the command instead of the start.
BACKSPACE - Remove the numbers
Then type in the new numbers.
Rinse and repeat
Transcribed Passenger Manifest
COUPON AIR
Your discount airline
FLIGHT 111
COUPON AIRLINES
YYZ
3:05
-----------------------------------------------------------------------------------------------------------------------------------------------
PASSENGER
SEAT
PASSPORT NUMBER
QR
ALBERT S
8C
3GH432
SF
ACTON K
1A
5LKJ5903
WE
BARNES L
7B
8EH2394
SD
BARCLAY W
6C
5SD3490
GH
BELL T
11E
7KJL304
VC
BELL P
8D
2KIL309
VC
BEST M
11D
2DH4932
WE
BONDI S
4C
7RH4093
SD
BORIS C
11C
3SE34FG3
GF
BOLL J
5B
2LY345R3
H
LEBLANC T
6B
2DB5622
VC
LEBLANC E
6A
9DB6781
VC
BRUZEK S
1B
3DF2341
SD
CARPENTER P
7C
5GH3453
WE
CLEVLAND R
1C
65KL3452
BG
ELLIOT V
7D
8GR4563
DR
ETHERINGTON S
8B
2SSD234
WF
FOX D
5C
3SN232
EF
FRASER E
4A
4JT34522
VC
GALAZ N
6D
4KJ39382
GB
GALBRAITH M
11B
3SG30984
GR
GOETZ J
8A
1GB2340
WF
HAMILTON F
11A
3HR23982
TG
HAMILTON G
5D
8BR23092
H
HAZEL J
4B
4LK409318
GB
HELIKOVA K
1D
5AB03945
PO
HIGASHI K
4D
6JHS2654
AJ
HIGASHI M
10E
6WJ54993
AJ
HOWALD A
5A
4WH54227
DE
LAI C
2D
6RG39387
H
LANDSBERG A
10C
1AH23098
TR
LEE K
2C
8KW029384
VC
MCLACHLAN C
7A
3KS483944
TR
MECCA T
10B
8BH30984
GB
MARTIN H
9A
9SB349823
WL
PRESTON A
10A
9EB39487
GH
PORTER T
2A
5SH34958
FB
RITZ B
9B
5QWH3409
DE
SCHEIBER V
9C
8LE093487
HG
SCOBIE J
3D
98LS93726
JH
STEWART S
2B
49LB23094
KA
UI R
3A
7HT398473
LA
VANDUSEN J
3B
47GF43987
YZ
ZARLS F
3C
4GT340978
KJ
ZUMKLEY B
9D
IWG23984
PL
Known Bugs
The names don't match the passengers appearance (see Japanese passengers), this might be texture issue
One of the pilots found in Cave 5, leaning over a seat isn't counted as a passenger. Though is counted towards the old 130 passenger system. It appears this hasn't been updated or its yet to be implemented.
Trivia
Previously, there were around 130 passengers the player could find, but as of v0.28, the passenger count has been limited to 43 passengers. Although, many of them won't be recognized since their body is cut off in half or is too damaged.
Gallery
Update history
Version
Changes
v0.72
Fixed single dead body triggering old find passenger message

Fixed missing seat 6c in passenger manifest

v0.71b
Fixed colliders on tennis players being too large
v0.68b
Fixed passenger task not crossed off upon finding the 43rd passenger
v0.68
All bodies accountable for on manifest

(Multiplayer) Fixed passengers manifest wrongly counting up and unlocking the achievement without actually discovering all passengers When discovering passengers it now displays their seat number instead of the underlying ID

v0.64
Fixed crossing passengers off the manifest
v0.62
Fixed passenger manifest being invisible if players tried to take it for the first time from a saved game

(Performance) New asset bundles for improved memory usage. Tennis players, first class passengers, dead frozen bodies, cannibal village tree, Hanging woman Plane bathroom, pilots, cockpit, Anchor, Old boats and hanging bodies now add to memory only when in range

v0.45
Viewing passenger manifest can now be cancelled by pressing attack

Fixed passenger manifest being activated at inconvenient moments such as when enemies are nearby

v0.40
Fixed tennis balls on dead tennis players being scaled too small
v0.39
Tennis players and lawyers now show up on passenger manifest

Tennis players and lawyers now show up on passenger manifest

v0.38
Passenger manifest is no longer automatically equipped while in combat

Caves- adjusted tennis player lod so they don't pop on

v0.31
Fixed hanging bodies in main cannibal village not dropping items when hit, not counted on passenger list
v0.30
Passenger manifest and plane axe are no longer available in hull when already owned

Passenger manifest is now retrievable from plane in save games if it was not retrieved previously

v0.29
Passenger manifest now auto closes after 3 seconds after it auto opened upon finding first passenger
v0.28c
Fixed passenger manifest not loading correctly with saves done in previous versions
v0.28
Passenger Manifest added to the game

New item: Passenger Manifest ! (find all fellow passenger bodies in world to cross their name's off the list) (Multiplayer) The cave map and the passenger manifest are passed on to the respawned player when dying A list can now be found in the rear of the plane with the names of all 43 passengers.

v0.21
Pedometer pickup removed from plane and added to tennis player corpses
v0.10
Animated passengers appear on the plane during the opening
v0.01
Dead passengers and passenger count added to the game.

cutscene.