World of Warcraft: Dragonflight - The Loop
Play Sound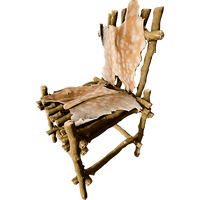 The Chair is a furniture building that was added in update v0.46 of The Forest.
Gameplay
[
]
It functions identically to the Bench, allowing the player to sit and restore Energy. It is built from the Survival Guide.
While sitting, the player will regain energy through an effect called energized. It will restore energy fast while sitting, similar to that of the cassette player. It can be an effective way of restoring energy without the use of consumables. Every seat has the same effect.
Building
[
]
Other seats include:
Gallery
[
]
Update History
[
]
Version
Changes
v1.0
Chair changed from requiring rabbit skin to deer skin

Pooled props such as benches and chairs now stipple on smoothly when approached/backed away

v0.72
Fixed benches and chairs able to be activated after being destroyed
v0.61
Fixed bed, chair and table missing wood sfx when hit or walked on
v0.58
Added look around animations when players are sitting on a bench or chair
v0.50
(Building) Fixed grab chair icon turning on then off before being in range of use
v0.46b
Player now returns to their original position when exiting chair/bench – should fix issue of players stuck in chairs built too close to tables

Reduced trigger range on chair so players can't teleport across room to sitting position

v0.46
Chair added to the game